L'Azienda è situata ad una altitudine compresa tra i 200 e i 300 m.s.l.m., prevalentemente in Predappio e in piccola parte in Castrocaro, su di un terreno costituito da argille mature appartenenti ad una formazione geologica che nei tempi remoti ospitava il mare, come risulta dal ritrovamento di impronte fossili di conchiglie e pesci e dalla presenza di sorgenti salate...
The Farm is situated at an altitude of 200 and 300 metres above sea level, mainly in Predappio and a small part in Castrocaro on a land constituted by mature clays belonging to a geological formation that housed the sea in the ancient times, as shown by the discovery of fossils of shells and fishes and the presence of salted water springs...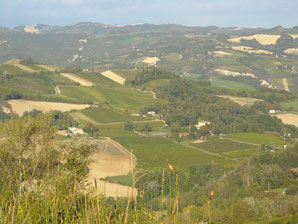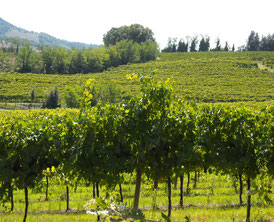 L'indirizzo principale è a colture arboree, ciliegio, albicocco, pesco, susino, kiwi, kaki, olivo e vite. Le uve allevate sono in prevalenza Sangiovese e Cabernet Sauvignon a cordone speronato, e collateralmente anche Trebbiano e Chardonnay a Casarsa modificato e Albana a pergoletta. Il terreno dell'azienda è di medio impasto, tendente al sabbioso e conferisce al Sangiovese un particolare aroma che vagamente ricorda il profumo di viola e con un fondo pieno e leggermente amaro. Dopo la vinificazione all'aperto, per i rossi con il sistema tradizionale e per i bianchi con pressatura soffice, il vino è trasferito nella cantina situata nei sotterranei della villa dove trova l'ambiente ideale per la conservazione.
The Farm interest is mainly on fruit crops: cherry, apricot, peach, plum, kiwi, kaki, grapevine and olive. The grapevines predominantly grown are Sangiovese and Cabernet Sauvignon spurred cordon, followed by Trebbiano in Casarsa modified method, Chardonnay in Guyot way and at last Albana in the pergola way. The land is of medium texture and slightly sandy, and this imparts to Sangiovese a particular flavour, a vague scent of violets, with a solid structure and a slightly bitter taste at the end. The wine, produced in the open, the red grapes by the traditional system and the whites by a soft pressing, is transferred into the winery located in the foundations of Villa I Raggi, where there is the ideal environment for wine storage.